#Focusing on your way#
For a lot of different cultures, the eagle is used to symbolize a pure spirit. It is a majestic animal, and can see clearer than any other bird or animal - it has eyes that are eight times sharper than human eyes. It is this clarity that is used to signify such a pure spirit. Someone might choose to wear this bracelet to allow themselves to remain focused on a vision, or to allow themselves to see the world around them clearly. It can be difficult to keep sight of what is important in life, but the eagle can serve as a reminder to see what is important in life, and to remain true in spirit. The past, present at future are all things that can benefit us, if only we choose to examine them with clear vision, in order to learn from them.

-MATERIAL & PRODUCTION-
Size: It is about 7" around and about 1" wide at the widest point. The opening is about 1 1/2", and partly flexible.
Package: 1 x Eagle Bracelet
Material: Metal Plating (Eagle bracelets are made of high-quality Tibetan alloy, cadmium-free, lead-free, nickel-free, antique silver, light and special, you can use these beads to create retro and retro style.)
Weight:25g
Our jewelries will ensure a very long lasting brilliant finish that is nic free, lead free and hypoallergenic.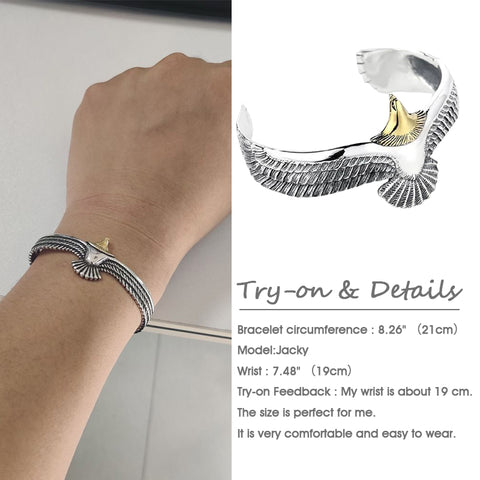 -About Viennais-
Viennais was dedicated in making the unique and inspiring jewelry in the last years and it is relentless in efforts of becoming an iconic brand. We have rich experience in making the creative jewelry for our customers and we believe we can do more in the future to lead the fashion trend. In Viennais, every one deserves their own piece of jewelry for daily wearing, shining throughout their life.

-SHIPPING, RETURNS & SERVICE-
Free Delivery for all products. Processing Time : 1-5 Working Days.Estimated Arrival : 7-20 Working Days.We have a 30-day return policy. For more details see Shipping & Returns. Any questions or helps, pls email service@viennais.com or message us.